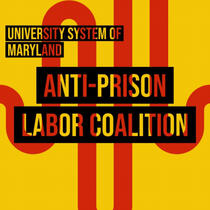 University System of Maryland Anti-Prison Labor Coalition
The USM Anti-Prison Labor Coalition brings people together from across the University System of Maryland committed to the abolition of prison labor.
Mission
We demand that USM divest from their partnership with Maryland Correctional Enterprises (MCE) as well as push for legislative change of the legally mandated partnership between public institutions and MCE. We advocate for alternative investments in the larger Maryland community, alternatives rooted in the protection of marginalized communities.
How you can help
Reach out and get involved in community efforts through nonprofits, clubs, and online events

Follow us on social media and join our meetings

Check to see if your university, school system or other institution utilizes prison labor

Raise awareness by sharing data and information

Look up and contact your local representatives to let them know that you, as a constituent, are concerned about this issue